Leadership
Nancy Weinstein
Founder & CEO
Nancy founded Mindprint Learning with the perspectives of both a parent and an innovator.  Realizing a need to address a common challenge for parents and educators, she drew upon her background in science and business to create Mindprint, the first ever valid at-home cognitive assessment supported with next-step strategies for growth. Nancy has an extensive background in business, including work at Goldman Sachs, The Walt Disney Company Corporate Strategic Planning, Bristol Myers Squibb, and several smaller Internet companies. Nancy has an MBA from Harvard Business School with first year honors and a BS/BSE summa cum laude from the University of Pennsylvania and Wharton School of Management and Technology Program, Bioengineering and Finance. As a mother of two, Nancy recognizes the challenges parents face today, from helping with homework, to navigating the ever-changing pace of education and technology.
Cognitive strengths:
Abstract Reasoning
Verbal Reasoning
Cognitive weaknesses:
Spatial Perception
Visual Memory
Mary-Vicki Algeri
Director of Learning & Customer Success
Vicki leads all aspects of client services including implementation, support and retention. She has her MA in Early Childhood Education/Special Education from Teachers College, Columbia University and her BA from Bowdoin College. Before joining Mindprint, she taught in elementary and middle school general and special education classrooms. She also provided educational consulting and curriculum development services to schools in New York and New Jersey. She is the co-author of the book The Empowered Student: A Guide to Self-Regulated Learning.
Cognitive strengths:
Flexible Thinking
Abstract Reasoning
Cognitive weaknesses:
Verbal Memory
Working Memory
Bradford Hosack
Chief Technology Officer
Bradford leads all software engineering, product, and UX efforts across Mindprint's education technology initiatives and is Mindprint's Chief Technology Officer. A lifelong learner, educator, and inventor, he dedicated to changing the way students learn through the design and development of educational software. His previous successes include being the co-creater and cofounder of Flipgrid—a video platform for recording and sharing student voices, and designing and leading the engineering vision of Passport—the cornerstone platform for delivering Carnegie Learning's digital product offerings. Bradford received his MA in Curriculum and Instruction from the University of Minnesota in 2010, and is currently working on his PhD in Learning Technologies.
Cognitive strengths:
Flexible Thinking
Spatial Perception
Neill Seltzer
TestPrep Director
Neill is a long time Test Prep veteran. He got his start as an SAT tutor in Hong Kong in the early 90s. Since then he has run test prep and tutoring companies around the country and internationally including stints as the COO of Test Services Inc, Chief Product Officer at Inspirica, CEO of Noodle Pros, and the National Content Director at The Princeton Review. Neill has written or contributed to over twenty books on standardized tests, built test prep apps, designed testing engines and score reports, trained hundreds of tutors, and tutored or taught thousands of students. He has a BA in English from Vassar and a Masters of Architecture from Pratt. Now, as a father of three, Neill is navigating the world of standardized tests in a whole new, eye-opening role: parent. 
Cognitive strengths:
Flexible Thinking
Verbal Reasoning
Eric Weinstein
Co-Founder & CFO
Eric has been critical to developing Mindprint's business and financing strategy and is Mindprint's CFO and Chief Strategic Officer.  Before launching his own investment fund, Eric spent over a decade on Wall Street, most recently as a Director at Credit Suisse where he was a key advisor in numerous principal transactions, mergers, equity and leveraged financings. He was also VP of Strategic Planning at Centennial Communications and served on the Board of Ubiquitel, Inc. prior to its merger with Sprint. He currently serves as a Director of Tiger Labs, Princeton's Healthcare Internet incubator.  Eric holds a BS in Economics from the Wharton School.
Cognitive strengths:
Abstract Reasoning
Verbal Memory
Spatial Perception
Psychology & Learning
Dr. Wendy Matthews
Dr. Carol Blum
Stacy Shanskhalil
Susan Beshel
Advisors
Tamara Butler Battaglino
Scott Blandford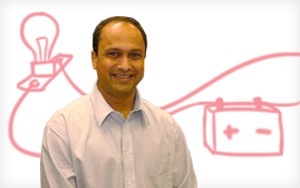 Sanjeev Kulkarni
Eric Cantor